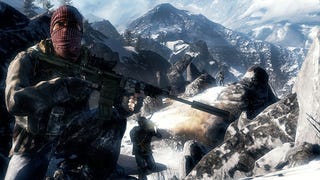 Electronic Arts' military shooter set during the modern war in Afghanistan could have lost its official U.S. Army support over the inclusion of Taliban fighters as playable characters in the game's online mode, military officials told Kotaku.
The U.S. Army, which officially supported the development of Medal of Honor, didn't find out about the inclusion of playable Taliban fighters in the game until the title was nearly finished, said Kenneth Hawes, director of the U.S. Army's Public Affairs Office Western Region.
Despite working with the developers on capturing sound, going over the campaign's story and allowing photo shoots of vehicles like the Apache attack helicopter, the U.S. Army was never told about the game's multiplayer modes, Hawes said.
The director learned of the Taliban's inclusion after the issue made a splash around the world in media reports following the game's showing at the annual E3 video game convention in Los Angeles.
"We immediately contacted Electronic Arts and asked them to give us a demonstration of the game's capabilities," Hawes said.
Hawes and a team traveled to the studio on Aug. 27 to see the game's multiplayer modes first hand. What he saw did not please him.
"You have to understand I'm not a gamer," Hawes told Kotaku. "We provide support on major motion pictures, television and video games, but I didn't grow up with video games. So personally I was a little disappointed they included that scenario."
Hawes said he understands that when a military shooter has an online element there needs to be "theoretical good guys and theoretical bad guys."
"But our concern is that this is an ongoing conflict, soldiers are engaged every day, our sons and daughters are dying at the hands of the Taliban," he said.
When asked what the reaction of the Department of Defense was when he passed on the word of the nature of the Taliban's inclusion in multiplayer he said he thinks they were "a little surprised."