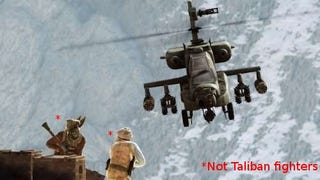 Responding to the reaction of the "friends and families of fallen soldiers," Electronic Arts today said today they are removing the Taliban as playable characters from their upcoming military shooter Medal of Honor.
The opposing force that the U.S. military take on in Afghanistan in multiplayer bouts is now called the "opposing force."
Medal of Honor came under intense pressure from the military after it became known that in the multiplayer portions of the game, players would be able to take on the role of Taliban fighters.
In early September, the commanding general of the Army and Air Force Exchange Services told Kotaku that he decided to have Medal of Honor pulled from U.S. military bases worldwide because of the "well-documented reports of depictions of Taliban fighters engaging American troops" in the game.