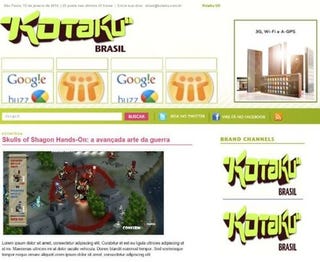 Fact: Many of the most important moments in my life have been marked by Antonio Carlos Jobim's wonderful song, The Girl from Ipanema. That song seems to drift through my best moments.
So I was especially delighted to learn this month that like one of my favorite songs, Kotaku too will soon be in Portuguese. Don't panic! This site will remain English, but Kotaku Brasil, due to launch in November, is going to be 100 percent Portuguese.
Based in Sao Paulo, Brasil, the site doesn't go 100 percent live until early November, but I'm told by Kotaku Brasil editor, Renato Bueno, that they hope to start publishing a couple of posts a day as early as next week. Excitement!
What's really exciting is that not only did the denizens of Kotaku Tower get to meet Bueno way back in 2008, but Fahey serenaded him. Too bad it wasn't with the Girl From Ipanema.