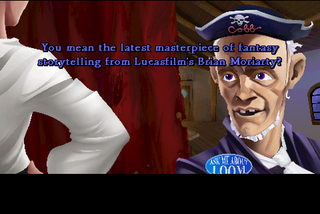 Humor in video games can be a brutally serious thing.
The very nature of creating something funny makes finding a publisher for a big-budget funny game nearly impossible.
"The process of getting a $30 million game signed with a publisher is the process of removing risk," said Tim Schafer, one of Double Fine Productions' resident funny men, and founder of the video game studio. "You start out with your idea and then they're like, 'Hey, what about this thing that might alienate people?' So you take that out, and you take this out and this out.
"But humor is always going to be risky, because the joke is always risky, people might laugh and they might not. So often in games it's the obvious thing to go."
But that hasn't stopped Schafer and his team at Double Fine from making funny games, and finding success doing so. They've been so successful, that last week Schafer was able to convince another great video game humorist, Ron Gilbert, to join his team.