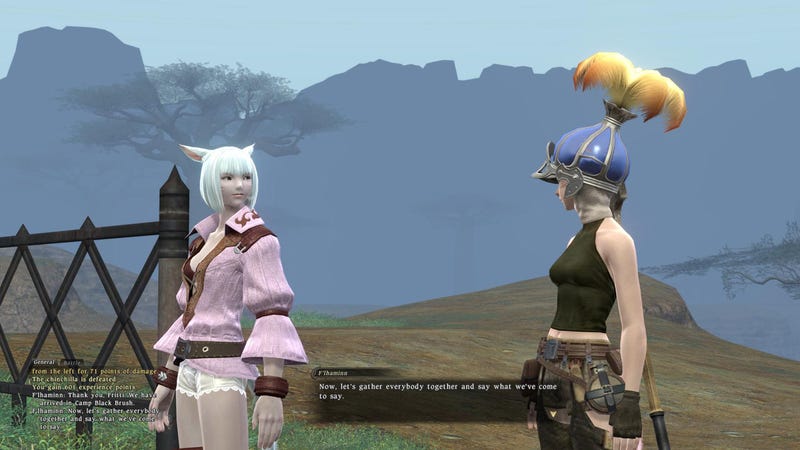 As part of Kotaku's extended massively-multiplayer role-playing game review process, I spent the better part of the past week playing Final Fantasy XIV. I'm still not sure why.
Kotaku's MMO reviews are a multi-part process. Rather than deliver day one reviews based on beta gameplay, we play the game for four weeks before issuing our final verdict. Once a week we deliver a log detailing when and how we played the game. We believe this gives readers a frame of reference for the final review. Since MMO titles support many different types of play, readers can compare our experiences to theirs to determine what the review means to them.
Now join me as I enter the fantasy world of Eorzea in the first part of our Final Fantasy XIV MMO Log.
Thursday, September 23, 10:00PM Eastern
Final Fantasy XIV is an incredibly complex game. The first taste of this complexity comes while setting up your account. First I signed up for a Square Enix account. Then I registered my Final Fantasy XIV service. Then I added my registration code. Then I set up a basic $9.99 a month subscription. Then I added an additional $3.00 a month for the one character I wished to play. You can add additional characters for $3.00 each per month.
I ended up somehow registering two accounts. When I log in, I have to be sure to choose the second of two listed Final Fantasy XIV accounts, as the first has no subscription attached.
The process was ridiculously complex.
The first order of business once my account was setup was to create a character. That process, which I recorded for prosterity, resulted in a pink-haired member of the feline Miqo'te race named Fritti Tailchaser.