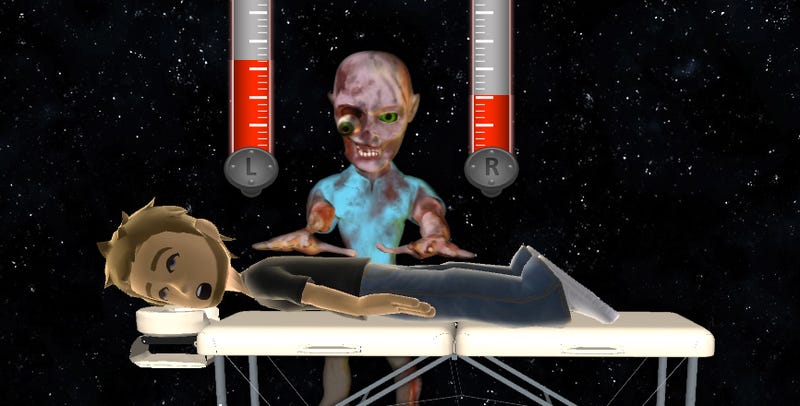 Seconds before he angered a lot of people, Jeremy Eden declared that he had figured out how to make a lot of money.
Eden is the leader of a small Texas team of young amateur video game developers. The brash bunch. who call themselves JForce Games, are just getting started in a brash medium. Eden and his team are boastful dreamers who brag that they possess barely a scrap of development experience. They promise to someday make something great.
Jeremy Eden believed this past summer that he had concocted the recipe for a hit. It would be, he and the rest of JForce games thought, their second big success.
This great new thing would be a cheap downloadable Xbox game, of sorts, that would satisfy the public's proven appetite for three things the public had already shown — statistically — it loved: Xbox avatars, zombies and massage.
Then, one day in August, Jeremy Eden made a mistake.
He told the one group of people capable of preventing his game from coming out — other independent game developers who are empowered to get each other's games sold for download on the Xbox 360 — that he was doing this. He told them that he was doing it not for whatever love of art might propel someone to make an avatar zombie massage game. He let them know he was doing this as an easy way to make money.
Instantly, he had enemies, and he was the villain.
Above: Jeremy Eden in 2008 from a promotional video.
A two-month battle began that would see his game repeatedly blocked and that ignited a debate about what a respectable artist should or shouldn't do to make money and about how a community of creators with their own goals should react to an outsider who defines success another way.
Through it all, Eden's sure-fire recipe would get its chance. The world got to try a zombie massage game this past summer. But even with that, there was a twist.
The First Disaster
Behind a keyboard, Jeremy Eden is a natural bad guy. And like all possible bad guys, he is sure he is the good guy.
In August he posted a message on the XNA Creators Club message board, a forum where he would be talking to his fellow independent game developers. These developers were the people who had the power to get his Eden's onto the Xbox 360. He titled his post: So we made another massage game. He introduced his fellow developers to Avatar Zombie Massage Online 2 (there is no AZMO 1) with a letter announcing that his team, JForce Games, was reaching for big dollars: "So yeah, this is the epitome of a shameless cash-grab," he wrote. "here's no doubt in my mind that it'll be a top-seller. Most of you should agree with this."
He cited sales stats for massage games that were released by his fellow creators to the Xbox 360. He cited the performance of JForce's own Avatar game. And zombies. Zombies, he didn't need to point out, were big. Imagine melding the three.
"Point of all this is, you can't get mad at a business (emphasis in the original) for chasing easy money, you should really just be mad at the consumers," he continued. "Supply and demand, yo. Looking at the above data is such a strong indication of the market's demand. We're just giving them what they want. We're making people happy."
To this day, Eden claims that his opening message about his team's zombie massage game was designed to "minimize backlash," even though it did the opposite.
Eden knew that his audience was a sensitive bunch. Launched by Microsoft in 2008, The Xbox Live Indie Games channel, it offers the sole opportunity in console gaming for an amateur developer or team — with the involvement of no big companies — to sell video games that can be bought and played on the same box that runs blockbuster titles from massive publishers like EA and Activision.
The Indie Games channel, however, like the iPhone App Store, has been littered with enough junk to obscure the small gardens of creativity. Creators of the good games, the well-regard $1 role-playing game Breath of Death VII or the slick $1 shooter Crossfire have struggled to get their games noticed amid a bramble of crude games starring Xbox Live avatars, a horde of zombie games and a proliferation of game-controller-rumbling "massage apps" so excessively imitated that even a game about shooting Russians and collecting jelly beans included a massage mode. Some saw the massage apps as glorified sex toys.