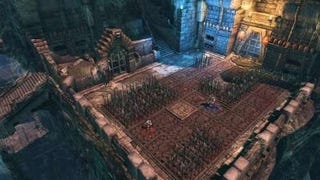 The news today that the PlayStation 3 and Steam/PC versions of Lara Croft and the Guardian of Light will be out next week confirmed that online co-op won't be available at launch, just as it wasn't on the Xbox 360.
"We didn't want to deliver the subpar experience online," Karl Stewart, global brand director at Lara Croft development studio Crystal Dynamics told Kotaku during a phone interview today. He said that the online co-op will be added to the PS3 and PC versions "as soon as possible," but as with the 360 version, Crystal Dynamics' developers recognized late in development that the feature wouldn't be good enough for launch.
Lara Croft and the Guardian of Light is a well-received top-down two-character twist to the traditional Tomb Raider style of games. It was designed to be played co-op and was promoted until nearly the eve of its Xbox 360 release as supporting both offline and online co-op. But prior to that August release, the game's creators said that online co-op would be delayed.