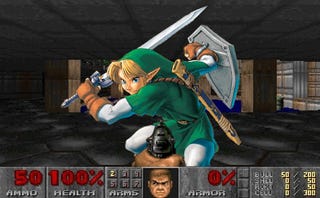 My friend N'Gai Croal and I have made a game out of choosing the 10 best video games of all time. This is a game, called Canon Fodder, that we invite game developers to play every six months or so.
Earlier this month, during Canon Fodder season two, The Legend of Zelda: The Ocarina of Time got knocked off the No. 1 spot.
How This Impossible Mission Began
Canon Fodder started, this past spring, with an intentionally imperfect list: The 10 highest-rated games on Gamerankings.com. There were so many problems with this list:
1) It excluded games that were popular before games were reviewed online.
2) It included things like The Orange Box, which people couldn't even agree was a game
3) It included Metal Gear Solid for the Game Boy Color
This was that original list:
Canon Fodder Starter List
1. The Legend of Zelda: Ocarina of Time
2. Super Mario Galaxy
3. Grand Theft Auto IV
4. Super Mario World
5. Metroid Prime
6. SoulCalibur
7. The Orange Box
8. Uncharted 2: Among Thieves
9. Super Metroid
10. Metal Gear Solid (Game Boy Color)


What a mess.
N'Gai and I then invited game developers to each make one of two moves. They could 1) swap the positions of any two games on the list or 2) remove any game and replace it with a new game in that removed game's spot.
We had 10 people from the games industry take turns before we showed the results to the public at the Penny Arcade Expo East in Boston. Peter Molyneux (Fable), Patrice Desilets (Assassin's Creed), Curt Schilling (yes, the ex-pitcher), people from That Game Company (Flower), and 5th Cell (Scribblenauts) all took their turns. Then, at PAX East, a bunch of developers took turns live.
(Read an account of the first 13 turns of Canon Fodder, aka Season One of our game, posted on Kotaku in March.)