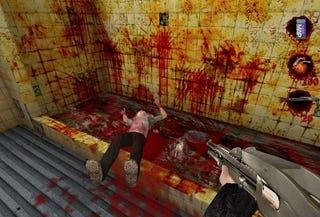 Blasting a California statute regulating sales of very violent video games as a threat to the freedom of creative expression, the Entertainment Software Association today asked the U.S. Supreme Court to strike down the law, once and for all.
The law, which sets penalties for selling or renting titles with especially violent content to minors, "threaten[s] freedom of expression not just for video games, but for all art forms," ESA president Michael Gallagher said in a statement accompanying the brief filed today with the high court. "It would also tie up our courts in endless debates about what constitutes acceptable creative expression in our media. It protects no one and assaults the constitutional rights of artists and storytellers everywhere."
The ESA is the leading group representing the video games industry in the United States. It also established the Entertainment Software Ratings Board in 1994, responsible for rating and classifying video games according to age appropriateness.
The ESA's brief argues that California's law fails to meet the "strict scrutiny" precedent the Court established in reviewing "content-based restriction" of free-speech. Namely, the government must show that such a law serves a "compelling state interest," the law is necessary to serve the interest, and it is the least restrictive means of doing so. A federal court and federal appeals court have found the law falls short.