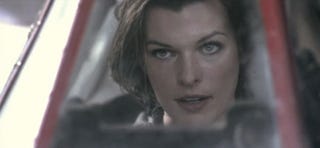 Most 3D movies were made as 2D movies, then just have 3D effects added later. Not Resident Evil: Afterlife!
"I wrote things into this script that I knew would work well in 3D like lots of sets with depth-like tunnels, elevator shafts, and big wide landscapes," says Paul W.S. Anderson, the movie's writer, producer and director. He's not kidding around; the film was shot using the same 3D camera technology as James Cameron's Avatar.
"It's the reason why (actress) Milla (Jovovich) has an airplane in this movie — so I could shoot over these fantastic glaciers in Alaska with a tiny plane over a huge white landscape."