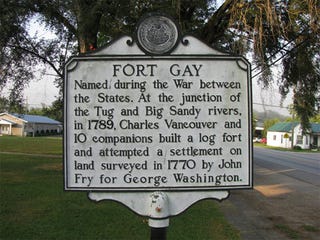 When banned 26-year-old Xbox Live gamer called Xbox support to explain that his town of Fort Gay, West Virginia, was a real place and not a homosexual reference, he was threatened with account cancellation.
An unemployed factory worker who enjoys first-person shooters, Josh Moore found himself temporarily suspended from Xbox Live last week due to an offensive word in his profile. Moore lives in Fort Gay, a small town of under 1,000 people in West Virginia's Wayne County. The word "gay" in the place name set off red flags with Xbox Live, and Moore found himself suspended, the town name removed from his bio.
Moore was rather ticked off.
"At first I thought, 'Wow, somebody's thinking I live in the gayest town in West Virginia or something.' I was mad. ... It makes me feel like they hate gay people."
Still, such a silly little mistake should have been easy to fix, right? Moore contacted Xbox customer service to clear things up.
"I figured, I'll explain to them, 'Look in my account. Fort Gay is a real place,'" Moore reasoned. But the employee was unreceptive, warning Moore if he put Fort Gay back in his profile, Xbox Live would cancel his account and keep his $12 monthly membership fee, which he'd paid in advance for two years.

"I told him, Google it - 25514!" Moore said, offering up the town's ZIP code. "He said, 'I can't help you.'"
Moore was beside himself. Fort Gay mayor David Thompson tried to intervene on his behalf, only to be told that the town's name didn't matter, and the word "gay" was offensive in any context.
Of course this isn't the case. A change to Xbox Live policy earlier this year made it okay to express your sexuality in your profile or gamertag, after controversy arose over users being banned for identifying themselves as gay and lesbian.