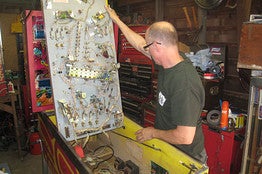 You think it's hard being the only company around that still makes pinball machines? What about the people left who still repairs them?
The Wall Street Journal has an interesting write up about Mike Hooker, by day a locomotive repairman, but in his time off a pinball fixer who makes house calls.
Pinball machines, once king of arcades and pool halls, have long, slowly pinged and banged their way into obsolescence. They're not quite there yet. Chicago's Stern Pinball is the last company standing between mechanical video games and oblivion. And people like Hooker are all that is left to shore the walls, keep those remaining pinball machines working.