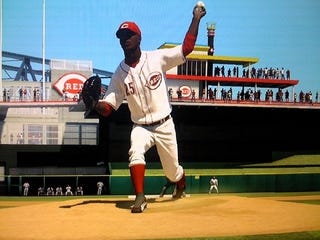 Cincinnati's Aroldis Chapman will be the second rookie to debut as the fastest thrower in all of video game baseball when he and his 103-mph heater are uploaded to MLB 2K10 sometime later this evening.
Chapman, consistently clocked at more than 100 mph, will arrive on MLB 10 The Show with next week's roster update, a Sony spokesman said. The Reds phenom debuted on Tuesday, won his first game in relief on Wednesday, and has been the talk of baseball this week.
"He will have a very high rating compared to other rookies," SCEA's Eric Levine told Kotaku, describing his fastball as a 105-mph blowtorch. "I don't know the exact number until the roster update is online, but he'll of course have an excellent fastball, a slider with tremendous break, and a high strikeout rating."
In MLB 2K10, which also won the race to be first with Stephen Strasburg back in June, Chapman "has the fastest fastball in the game," said 2K Sports' Chris Snyder. The team was still scouting his secondary pitches on Friday afternoon, to accurately rate them, but Snyder expected the roster to be ready to go in the evening, Pacific time.