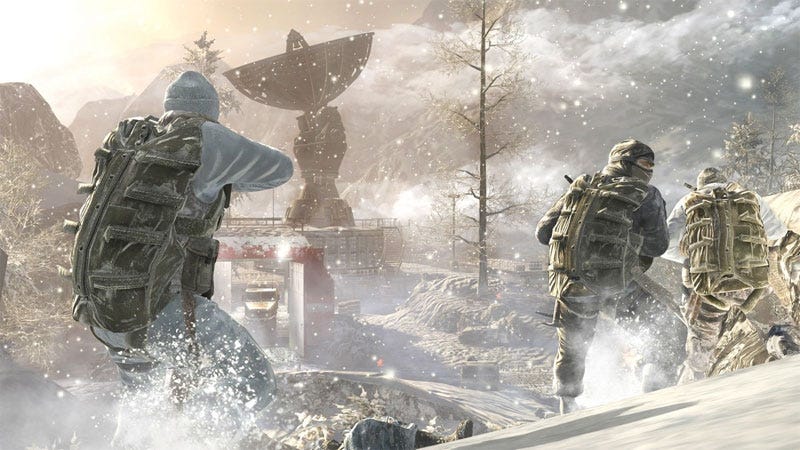 It's a safe bet that Call of Duty: Black Ops will become the de facto multiplayer shooter of the fall, deservedly so for the intelligent, exciting online features that developer Treyarch is adding to the series—most notably, gambling.
Of the hours' worth of Call of Duty: Black Ops that I played at Activision's multiplayer preview event in Los Angeles tonight, it was the newly revealed Wager Matches that packed the most punch. Nothing of substance was on the line as I was gambling with other people's "money" in the form CoD Points. (CP is the stuff players will use to buy new weapons, perks, killstreaks, etc. and is different from the Experience Points, or XP, acquired while playing multiplayer.)
The meat and potatoes modes—the frenzied Capture the Flag, the destructive Search and Destroy, Team Deathmatch—were intact, a delight to play, but familiar. Capturing enemy flags and defending the one guarded by my team of strangers on a map dubbed "Slaughter House" was as adrenaline filled and chaotic as ever. Capture the Flag, a staple, plays almost exactly as it did in the most recent Call of Duty. Perfectly fine.
Those now expected modes were spiced up by some of Black Ops' new killstreaks, like the RC-XD remote control explosive car which brings pint-sized but deadly driving to Call of Duty multiplayer. Players can also drop a SAM Turret onto the playfield that will target aircraft like the killstreak-called Attack Chopper. The vicious Attack Dogs of Call of Duty: World At War return in Black Ops, one of the late killstreaks that can help root out campers. Mortar Team was an interesting addition. Acquiring that killstreak lets the player paint three targets onto the map with mortar fire raining down on the map. It's similar to World At War's Artillery Strike.
The Care Package killstreak can, in addition to dropping other killstreaks, provide players with rare weapons, like a mini-gun and rocket launcher. Unfortunately, I didn't get to try those rare weapons on for size.
Black Ops appears to nail the obligatory online competitive aspects of a Call of Duty game, but Treyarch has something new and exciting to complement the multiplayer suite.
You Want Some Of This Action?
Wager Matches are wildly different custom game types. Comprised of four distinct free-for-all game types—One In The Chamber, Sharpshooter, Sticks and Stones, and Gun Game—players will ante up in a matchmaking lobby, wagering a set amount of the CoD Points they've accumulated by playing this and other multiplayer modes.