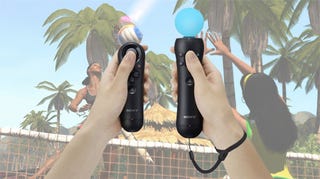 This is your guide to everything you need to know about the PlayStation Move: how it works, what it costs, and what games you can play on it.
What Is The PlayStation Move?
The PlayStation Move is a motion-sensing game controller platform for the PlayStation 3. It consists of a wand-shaped controller the player holds in his or her hand topped with a plastic orb that emits light in various colors.


How Does The PlayStation Move Work?
The PlayStation Move works in conjunction with the PlayStations Eye camera to track the movement of the controller in the player's hand. The orb at the tip of the controller emits light that can easily be tracked via the camera, while the orb's particular shape and size help facilitate distance calculations. In layman's terms, the PlayStation Eye can determine how far away the orb is by gauging its relative size.
The Move also contains a pair of inertial sensors that allow the controller to sense motion and rotation.
Check out Kotaku's full PlayStation Move review for our opinion on how well the controller performs.