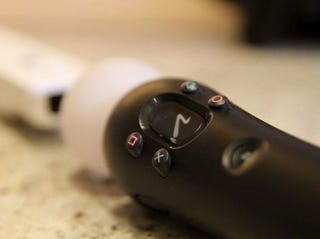 Due out later this month, the Playstation Move promises to deliver the best of two worlds: The motion-sensing realism and casual fun of the Wii combined with raw muscle power and high-definition graphics of the Playstation 3.
We've had the peripheral add-on in our offices for a little less than a week now, plenty of time to play a myriad of games, test out the limitations of the hardware and figure out just what the controller brings to the Playstation experience.
Over the course of the morning we'll be delivering to you reviews for quite a few games, impressions, hands-on with demos, videos, pictures, guides and tech tests of the Playstation Move.
Why don't you hang out and join us for a read? If you don't have the time, or would rather cut to the chase, I've summarized all of our thoughts below in concise summaries. But remember, the full, in depth coverage will be hitting the site throughout the morning complete with plenty of videos and images.
Note: If you have no interest in reading about the move, maybe you should check out this link for the day: http://kotaku.com/tag/not:playstationmove/
The Hardware
Totilo and I agree: The Playstation Move is a keeper, offering up enough potential while absolutely nailing the basics of motion-control to make the relatively modest investment more than worthwhile.