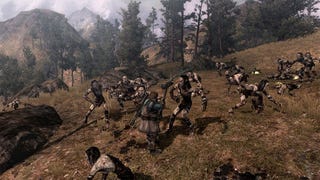 Finally, you can amputate and decapitate an Orc, thanks to Snowblind Studios' The Lord of the Rings: War in the North, the hack, slash and loot adventure with the Tolkien stamp of approval.
While the original Fellowship of the J.R.R. Tolkien books (and films) fight their way to Mordor to dispose of that ring, you'll enjoy your own adventure with a new group of heroes. It's all canon stuff, the developer says; the Tolkien estate approves it all.
Snowblind, which specializes in the ways of hack and slash, as proven by previous efforts Baldur's Gate: Dark Alliance and EverQuest: Champions of Norrath, tout this Lord of the Rings game as the first M-rated entry. It's bloody, and yes, Orc limbs fly freely during battle.
But you probably already know that if you've made it this far and read our E3 impressions of the game.