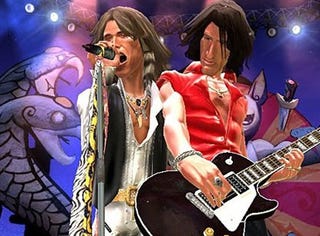 A new Canadian sleep study had students Trent University in Peterborough, Ontario, used the power of video game rock to determine the effects of a good night's sleep on motor learning.
Video games have long been touted for promoting strong motor skills in players, so what better what to determine how sleeping effects motor learning than with a round or two of Guitar Hero?
Canadian scientists tested the performance of a group of students at 9AM playing a track they had learned from Guitar Hero the previous evening, versus the performance of a group that learned a song in the morning and then played it back at night, after a full day of activities.
Researchers found that those playing in the morning saw a 7% improvement to the rate at which they hit the correct notes, versus an improvement of only 2% for those who did not sleep after learning the track.
"We can still get better at something if we don't sleep; it's not as if we won't remember things at all," says co-author Kevin Peters. "But this clearly shows that if you're not getting enough rest, you're not going to be learning as well as you could be."
This actually ties into yesterday's science post about digital devices keeping our brains too busy to learn correctly. A brain at rest is still working, filing away information for later use.