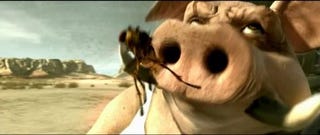 Ubisoft CEO Yves Guillemot assured me today that work continues and has never stopped on the highly anticipated sequel to 2003's Beyond Good & Evil.
"We were, as we are, working on the game," Guillemot told me during a meeting at Germany's Gamescom this week. "What is very import with this next product is that it will be perfect."
Developer Michel Ancel's "intention is to come [out] with something really exciting. But everybody needs a little bit of patience."
What makes Beyond Good & Evil 2 so significant to both Ubisoft and an industry powered, and sometimes limited by, great investments and huge profits, is that it is a sequel to a game that was, at least financially, a flop.
Guillemot said that Ubisoft was both happy and not happy with the reception of the original action-adventure game which had players taking on the role of reporter Jade who was investigating an alien conspiracy on her native planet. While the game received relatively strong reviews, sales were lackluster.
"I would say the game was very well appreciated by the people who played it," Guillemot said. "But we didn't have enough people when it was launched. After its time it become a very recognized product."
Guillemot chalks the game's disappointing sales to the fact that the game pushed on the notions and concepts of what people at the time expected a game to be.
This time around, with Beyond Good & Evil 2, Guillemot expects that the buzz already building around the game will help get more people to pick up the title in that critical first month of release. But it's still a risk.
So why do it?
"It's in our DNA to do innovative stuff because that's how the company was become what it is," he said.
That doesn't strike me as a talking point or a line from a press release when Guillemot says it and then quickly follows up the claim with a list of the titles that he says helped put Ubisoft on the map, help grow the company.
First, he says there was Rayman, a game the company head describes as a break-through in animation and one of the first platformer to hit stores that wasn't created in Japan.
"Rayman brought the western flavor," he said.
Then there was P.O.D. racing, one of the first games to support the MMX processors. It was bundled with some computers using the Intel chipset.
And there were both the Splinter Cell and Ghost Recon games, both new series that did tremendously well on the current and last consoles.
For this generation, Guillemot said, there is Assassin's Creed.
"The first Assassin's Creed was very innovative, but as with most innovation everything was not perfect. But then with the second game you go one step forward. You have to be able to start and come up with something that will be different first."
And those risks often pay off for Ubisoft. It did with Assassin's Creed, which delivered a sequel last year that was far better received than the original.
"You have to take risk," Guillemot said.
But sometimes the risks you take need to be in smaller markets. For instance, upcoming god game From Dust won't be released on a disk, instead it's coming on as a downloadable game for the Xbox Live Arcade and PlayStation Network.