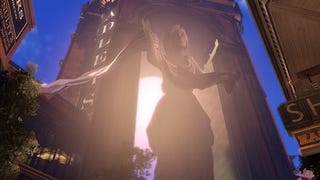 If BioShock Infinite debuts with a gameplay demo and a trailer that includes no Little Sisters, no Rapture, no — so far — apparent storyline connection to earlier BioShocks, is it really a BioShock game? Yes, its creator told Kotaku.
"It would be dishonest to say this is not BioShock," Irrational Games creative director Ken Levine told Kotaku in an interview last week, just a couple of hours after the game debuted before the gaming press in New York City.
I had seen the game played live in front of me and been impressed. (Read Kotaku's BioShock Infinite preview.) But I'd also been expecting Levine and Irrational to be working on something other than a BioShock. After all, they had turned down the opportunity to develop this year's BioShock 2, which was built primarily by Irrational sister studios under parent publisher Take Two Interactive. Plus, this game takes place in sky. The lead character has powers that shoot from his left hand and guns in his right, but, really, I asked Levine this is a BioShock?