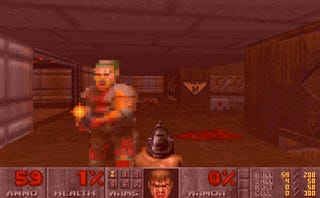 More than 17 years after it was released, more than a decade after I was first paid to write about video games, I have finally played Doom. For an hour last night. My belated snap judgment?
I like Doom! I like the way it looks. I like the way the gun bounces as you run. I like how stingy it is with help and how nasty it is with pain. This game is good.
I am not sure how I failed to play Doom during the last 17 years. While I have long been primarily a console gamer, I dabbled with PC gaming before, during and after Doom's launch. I had a Commodore 64, a PC that ran games off DOS and, later, Windows 3.11. I had friends who loved playing Marathon, which they described as Doom for their Macs. But somehow I never played Doom. Maybe it was too gritty for me. I was one of those kids who collected Superman comics, not Batman, and never Wolverine.
This week, for the second August in a row, I will attend Quakecon, the big Dallas convention that doubles as a festival for Doom's inventors at id software and the games id spawned. I couldn't go to a second Quakecon still a Doom virgin. At some point, once the secret is out, a man's got to play Doom.