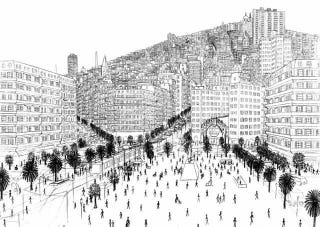 Like the millions of people who have ever sat down for a game of SimCity, Gilles Tréhin has designed the metropolis of his dreams. Thing is, Tréhin isn't your average SimCity player. He's a savant. An autistic savant.
Over the past twenty years, Tréhin has built the fictional city of Urville using nothing but pencils and his imagination (and, to begin with, LEGO bricks), compiling a detailed history of Europe's largest (non-existent) urban centre to go along with hundreds of beautifully detailed sketches depicting the city's landmarks, parks and back alleys.
Maybe I'm a guy who spends too much time around websites like this one, but right after "holy crap this is amazing", my next thoughts were "this looks a lot like SimCity" and "no, it looks even more like Subversion".