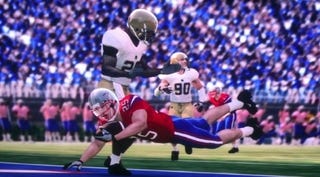 Sometimes a 17-point win still represents a hell of a comeback, and it did for an alumnus of Indianapolis' Roncalli High School.
Kotaku reader Trevor W. graduated from Roncalli 15 years ago, in the middle of a stretch that saw the Rebels playing in 11 Indiana state championship games over a 22 year span. But since 2005, his alma mater has won just one playoff game and is 21-20 over the past four years. Also, they've been regularly humbled by their rivals, Cathedral Irish of Indianapolis' northside. "As a former player, staff member, and coach, this weighs heavy on my heart," Trevor says.
So last year, Trevor took to NCAA Football's Teambuilder to create Roncalli's 1994 squad. "I was stoked to see that they still existed for play in 2011," he writes. "I loaded them up and then went looking for the Irish. I couldn't find a team from the time I played, so I settled for the 2009 model - a team that not only dismantled the Rebels by 45 points at Homecoming but also beat both of the teams that played for the state championship in Indiana's largest class (Warren Central and Carmel).
"Even though playing the game on Varsity skill level all but guaranteed the outcome, it was still fun to 'play' with my high school friends again and beat up on those no good cake-eaters," Trevor says.
He picked up his cell phone and took some screen grabs as NCAA 11 cycled through the highlights. "I decided to write a little smart-ass caption and post it on Facebook," he says. "Not surprisingly, it was a hit with the alumni base. Friends I hadn't talked to in a long time dropped in to comment on the thread and the 'game.'"
As someone who's put his high school in the college football game, I can attest to how much vicarious fun it all is, especially when Facebook friends who don't play video games are told their alma mater's in one, kicking the hell out of their old rivals once more.