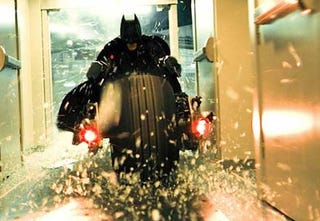 He's the hero Logitech deserves, but not the one it needs right now. So we'll hunt him because he can take it. Because he's not our hero. He's a silent guardian, a watchful protector. A forklift driver.
Hardware
• The Logitech Forklift Driver strikes again! The Logitech Flight System G940 with Force Feedback Joystick is $199.99 with a Logitech coupon. The previous low was $240 in April. Current next best is $268 at Amazon. Dented box means the packaging looks like hell, but everything's new and warrantied. [Dealzon]
• Look out kids! Forkliftman is a rampage! The Logitech G9X Laser Mouse (dented box but new) is $48.99 with coupon. Next best is $78. [Dealzon]
• The Logitech G27 Racing Wheel seems to have escaped his wrath, but it is $179.99 with a coupon code. Next lowest price is $233. [LogicBUY]
• And the Logitech G19 Gaming Keyboard is 40 percent off with a coupon code, dropping it to $119.99. Next lowest price is $177 from Amazon.com. [LogicBUY]
• Dell is offering the Wii Summer 2010 Bundle (black or white) bundled with Wii Sports Resort and Wii MotionPlus for $179.99. That's the lowest by $20. [LogicBuy]
• Dell is also offering the Nintendo Wii (white) with Wii Sports for $159. Next best price from a reputable merchant ranges from $170 to $180. [LogicBUY]
• And Buy.com has the convenient Quad Port Drop-in USB Charging Dock for PS3 controllers for $7.99. Next lowest prices range between $20 to $30 on Amazon. [LogicBUY]
Software
• GameStop has a 2-for-1 deal: buy one select game (Wii, PS3, 360, DS or PSP) and get the second game for free. [LogicBUY]
• You may also take 15 percent off in-stock Wii video games at GameStop using coupon code 15OFFWII. I don't think that stacks with the twofer above. [LogicBUY]
• A preorder of Halo: Reach is $44.99 at Newegg [TechDealDigger]
• Back in my piercing review of the Madden-flavored Doritos I mentioned that the bag contains a redeem code that gets you some free Madden Ultimate Team Cards in the game. Target has extra special bags of these chips that gives you some Target-exclusive swag - described as "Adrian Peterson downloadable content." Unfortunately, for every handful of chips your stuff in your face about six fall on the ground. That's better than the Jay Cutler Doritos, which your friends intercept before you can eat them. As for Madden NFL 11 itself, you get a $10 gift card if you buy it and two sacks of the chips. Target, however, is not doing midnight madness; the ad says it's available Tuesday morning at 8 a.m.