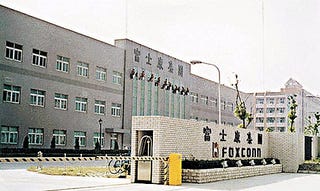 Foxconn is famous for two things: Manufacturing electronics (the PS3, the Nintendo Wii, the Xbox 360 and the iPhone) and having employees that commit suicide. This year, 12 Foxconn workers have taken their own lives.
A 22-year-old female worker from Jiangsu Province has fallen to her death this week at the company's Kunshan factory. Foxconn has confirmed the incident, and police are investigating whether the death was accidental or intentional. If it was suicide, that would bring the total to 13 workers this year.
The worker began working at Foxconn's Kunshan factory this past March. She fell into the safety nets surrounding the dormitory, but did not survive the fall.
This year, a couple of workers have died due to accidents, including one who apparently died of overwork. Foxconn also accidentally poisoned 250 of its workers while spraying for insects.