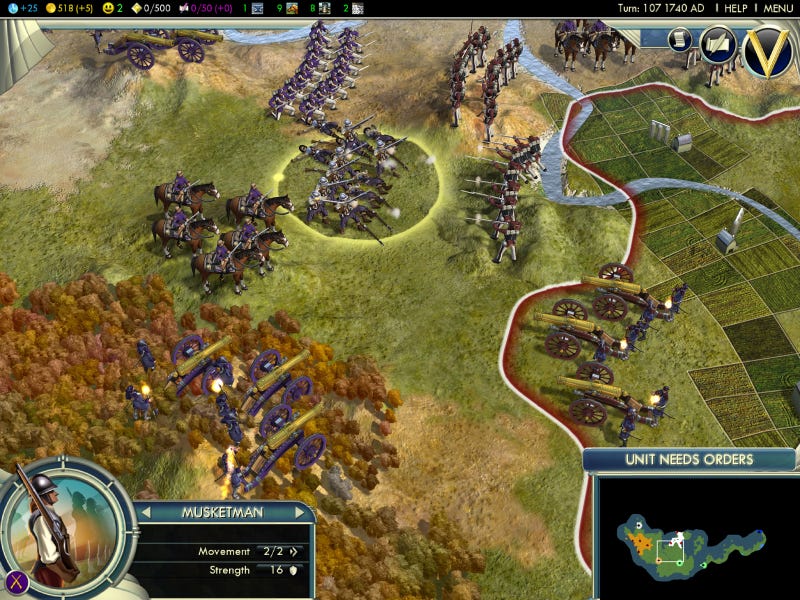 This preview of Civilization V is incomplete. It takes more than nine Earth hours, you see, for the great Arabian empire — land of Mecca, Rio De Janeiro and Beijing — to assume dominance of the globe.
It takes more than 400 turns of Civilization V to finish one playthrough set on a "small" world, time passing at a "standard" pace with the game set to "chieftain" (not very hard) difficulty.
Forgive the Kotaku previewer, will you? Life, sleep, work got in the way, despite the best efforts of the people at Firaxis who made this pleasure trap of a game. Thankfully, nine hours allowed for plenty of time to learn about the game.
It Looks Like What You Remember Civ IV Looking Like
Civilization V will seem very familiar. It's the same game as its predecessors insofar as you will play cultivator and ruler of a single civilization across several virtual millennia. At the start of the game, you can see only a small patch of terrain and direct just one cluster of settlers and one troupe of warriors. With the settlers you can start your first city. Around them the world is cloaked in darkness.
Where you place your capital is the first decision of Civilization's cascade of choices. Each piece of terrain on the map is associated with specific resources and imbued with certain potential, some land prime for farming, other for mining. Each city can be charged with producing special structures (barracks for troops, granaries for food production, stadiums for population happiness, and more) and special units (warriors of ever-advancing armament, settlers to found new cities, workers to build roads and so on). Cities do this work at rates tied to their citizens' productivity, a measure affected by how happy and well-fed they are.
Gameplay occurs in turns. You move your people-units across the game's map a set number of moves at a time; your cities toil to create what you have ordered over a set number of turns; you execute your orders and then wait for the other empires of the game to make their moves before you are in control again. The goal, accomplished a few different ways, is for your empire to be the best in the world.
As described, the Civ games can seem boring — even if you add details that your expanding empire, as it encounters other societies, can open diplomatic relations with or wage war against those other peoples. Sounds like history class. Worse: sounds like civics class. And economics. Dry stuff.
But Civilization games are the ultimate games of delegation. They are about being the boss — the ideas guy or girl — and making a computer do all the boring stuff. Let the computer connect the trade routes. Let the computer track diplomatic deals. Let the computer take command of all the worker units and have them upgrade the farms, build the lumber mills. I, the player — the ideas man! — am busy deciding whether to invade Brazil, whether we should build the Statue of Liberty and whether we should invent refrigeration so we can drill, baby, drill.
Civilization games can not only seem boring but they can look boring. At a glance, Civ V may look like the game you recall playing in 2005, Civ IV.
There has been a visual upgrade, though. Civ IV:
Civ V:
The new one looks better, best when it is in commotion on your screen. It drops Civ IV's zoom-out visual trick. No more pulling the camera back until you can see the curvature of the world in Civ V. But the terrain in V looks more lovely, the animations of whales in the bay and workers on the railroad each a small animated treat. Nature and urban sprawl look more naturally linked, and less tangled in the spaghetti of roads which development Firaxis promised to minimize and, with the new game, has. (You pay upkeep on roads now, so your workers or you won't pave more than is needed.)