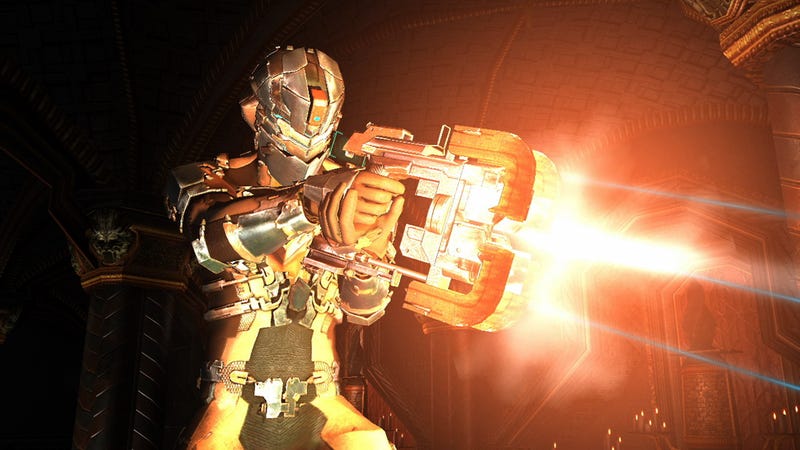 You're space miner Isaac Clarke three years after the events of the first outer-space horror game Dead Space and you are again low on ammo. What do you do? Cower?
In Dead Space 2, you thank yourself for not being in Resident Evil, in which the scares build as ammo becomes more scarce. You shoot your slicing mining lasers at the dangling arms of the mutant aliens you're once again fighting in this Visceral Games-developed sequel. Then you use your telekinesis to pull that severed alien limb or talon toward you. Finally, you shoot that limb back at the alien for a killing blow. No bullets, no problem.

UPDATE: Several readers have pointed out that severed limbs could be thrown by the player in the first game, a detail I did not remember clearly despite having finished the original Dead Space. I contacted an EA spokesperson who provided the following clarification:
"In Dead Space you could use the severed limbs but they would just push the enemy back and give little damage (the Exploder's yellow pus sack was the only exception since that would blow the enemies up).
"In Dead Space 2, telekenesis has been sped up so you can use it more effectively as a weapon and the severed limbs do more damage now. For example, the Slashers' arms will actually impale enemies and pin them up on the walls, like you saw."
Last week I played a small mid-game section of late January 2011's Dead Space 2. The sequence was set in the darkened halls of compound or church dedicated to the maddening Unitology religion that has spread, like the alien swarms, through the Dead Space fiction and onto the Saturn moon of Titan on which Dead Space 2 is set. The portion I played, for the record, matched what our Brian Crecente covered in June.