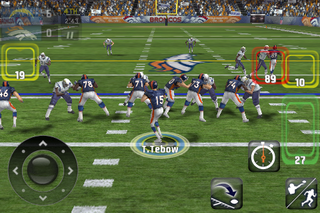 Sequels of Need for Speed on DSiWare and Madden NFL on the iPhone highlight Electronic Arts' upcoming mobile and handheld catalog of 11 titles, formally revealed at today's Studio Showcase event.
All are due this summer except for Madden 11, given a fall release timeframe. Need for Speed: Nitro-X succeeds Need for Speed: Nitro, released last year for the DS and Wii. EA says the arcade racer will bring 18 licensed cars and 16 updated tracks from the locations of the original Nitro game, with a career mode and local multiplayer supporting four players.
Following last year's debut efforts on iPhone, EA Sports returns with the already available NCAA Football for iPhone and Madden NFL 11, coming to iPhone, iPad and iPod Touch. Madden will incorporate the GameFlow play-management system of the larger console game as well as the ability to draw up plays pre-snap with something called "Hot Routes Everywhere."
The Sims will see releases on both the Android and iPhone (and iPod Touch). Android finally gets The Sims 3 Collector's Edition. It will be pre-loaded on the Samsung Vibrant handset, and has been designed exclusively for T-Mobile, EA says. The Sims 3 Ambitions is an all-new title on iPhone that drives players to pursue their characters' dreams and turn them into careers. Finally, SimCity Deluxe returns with easier controls and optimized performance on iPhone and iPod Touch.
Reckless Racing on iPhone and iPad was included in the list; Totilo has already given it a closer inspection on the iPad.