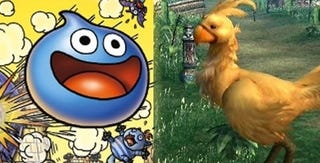 What would happen if Dragon Quest's most famous slime encountered Final Fantasy's most famous bird? Yuji Horii, father of Dragon Quest, must know the answer.
"Maybe Slime hops onto Chocobo," Horii told Kotaku last week through a translator during an interview tied into the U.S. launch of Dragon Quest IX on the Nintendo DS.
"Would they fight?" Kotaku asked.
"Maybe they would fight," Horii replied. "Did you want them to?"
Um, I don't know? I explained that these are the kinds of final questions one thinks of after sitting in a conference room with Horii at a table on which there was both a plush Slime between us and a small plastic one tethered to his cell phone. I had Slimes on the mind, and, hey, we were done talking about serious stuff like how long role-playing games should be.