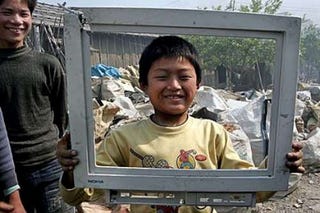 What do you consider when shopping for a new video game console?
The games available for the console? How much it will cost you?
What about the ethical impact of your choices?
Do you weigh what the creation of that console does to the environment, whether it was built in sweat shops or contains supplies sold to fund wars?
The notion of "ethical consumerism" is an increasing concern among shoppers of all types, including gamers, according to Jordan Louviere, professor of marketing at University of Technology Sydney and executive director of the Centre for the Study of Choice.
Louviere, an internationally recognized expert in consumer choice modeling, said that while many of today's consumers aren't aware of or educated about such issues, that seems to be changing.
"It is likely that these issues will play ever larger roles going forward over time," Louviere told Kotaku, "and those companies that are smart enough and strategically on the ball will see that there are potentially huge returns to product changes/innovations and associated sales and marketing from doing this."
While examining where consumer electronics, like the PS3, Wii and Xbox 360, come from and where the money you spend on them goes may sound strange to some, Louviere points out that it's just one more feature set that consumers can look at.
But is balancing the global impact of your gaming habits a reasonable expectation?
"'Reasonableness' depends entirely an a person's individual value system," he said. "All products and services have tangible, functional and other features. The choices that people make involve taking the features into account to try to get a product that best suits them for a price level that they are willing to pay to get them."
And for those interested, there are plenty of ethical issues to consider, topics to wade through.
Each year Greenpeace releases a guide that rates how "green" different consumer electronics, including video game consoles, and their parent companies are, based on, among other things, the chemicals used in the products and the energy consumption of an item.
"Gamers who are concerned about toxics leaching to water supplies and causing troubled pregnancies and other health defects should care," said Daniel Kessler, communications manager for Greenpeace International. "We believe that manufacturers of electronic goods, who have benefited from sales of their products, should take responsibility for them from production through to the end of their lives. To prevent an e-waste crisis, manufacturers must design clean electronics with longer lifespan, that are safe and easy to recycle and will not expose workers and the environment to hazardous chemicals."