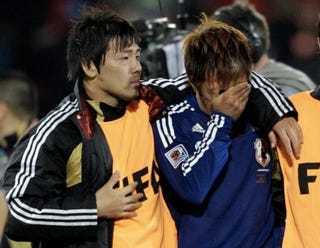 Last night, Japan played valiantly against Paraguay. The game was 0-0 after extra time causing the victor to be settled by penalty kicks. Paraguay made all its shots. Japan, however, did not.
The player who missed his shot was defender Yuichi Komano. He was the third player to shoot on the Japanese side, and his kick was too high, hitting the goal post.
So what did the Japanese media decide to do? Just as the sting of the loss is still fresh, interview Komano's mother in his hometown.
Here is his mother apologizing on television. The network is Japan's TBS, which has run questionable segments in the past.