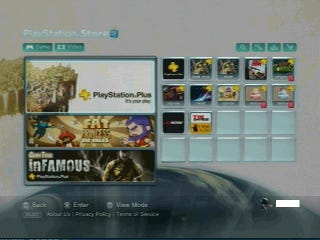 A new firmware update for the PlayStation 3 ushers in the age of PlayStation Plus, Sony's new premium subscription service. Let's take a look at what your money buys you today!

In order to see what the PlayStation Plus service has to offer, all you need to do is log into the PlayStation Store from your PS3 and choose the PlayStation Plus category, conveniently located at the top of the list. I particularly like the "Elevate your game" ad on the right side. Will it actually elevate anything?
Probably not, but catchy marketing slogan is catchy.
Here's what you'll see when you enter the PlayStation Plus area:


Look at all those golden d-pads! It's a smorgasbord of values!
The first option block allows you to subscribe to PlayStation Plus. It'll run you $49.99 for a year (plus three free months with the current promotion) or $17.99 for three months. The rest of the blocks show off what you'll be getting should you subscribe.
The first two items we've covered already this morning. They're the Plus-exclusive 60 minute trial for inFamous, a game any self-respecting PS3 owner already has. If you've yet to play the game, consider the time it takes to download 6.88GB of data your penance for this transgression.