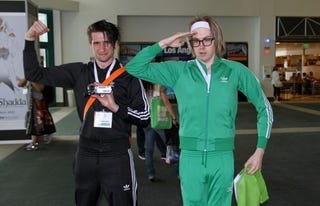 How did I get to E3? How did I get a VIP pass? I don't even know. The idea was that I would walk up to E3 and, telling nobody anything, manage to just get in. That's what happened.
It worked out pretty well.
I have business in the San Francisco Bay Area from late June to early August, so I figured I would fly in from Tokyo a week early, and check out E3. At the time, I didn't think it was a stupid idea to fly in to San Francisco International Airport, despite the Electronic Entertainment Expo being in Los Angeles. When I booked my ticket, I was only thinking that it would cost a lot more money to fly into Los Angeles from Tokyo and then fly back from San Francisco. I was hardly thinking that the entire goal of my trip to the United States was to make money — so much money that a little bit here or there to upgrade my traveling comfort would be irrelevant in the Grand Scheme of Things. Halfway through the flight, I remembered the story of Miyamoto Musashi's duel with Sasaki Kojiro: Musashi said that Kojiro had lost the duel in the very first instant, when he cast his scabbard into the ocean.
Monday
Well, at least, flying into San Francisco meant I would get to enjoy something I seldom enjoy: a nice long drive in a genuinely scenic part of the world. The road from San Francisco to Los Angeles, whichever highway you choose, offers much more fantastic scenery in five hours than you're bound to experience locked up in your room staring at a computer screen for six weeks. I arrived at the airport, suffered through a long ordeal at immigration — why they leave only six booths of eighteen open when there are clearly a thousand passengers waiting is beyond me — and waited outside in the cool northern California breeze for twenty minutes before Bob's Chrysler Sebring ("When You Need a Convertible — right now") slid up into a perfectly parallel-parked position. It was around that instant that I realized two attractive ladies were whispering about me over by an ashtray: Aha, it's because I am wearing a super-fly Adidas Originals track suit in the Japan-exclusive color of psycho-crayon-green. In front of me, a luggage cart, containing an enormous suitcase, my laptop bag, and a cardboard box full of computer. In my right hand, an Adidas Originals shopping bag containing an Adidas Originals track suit in the Japan-exclusive color of shiny piano black.
I'd heard someone say, a long time ago, that if you want people to remember you, you have to wear the same thing every day. That's why people remember, say, Mickey Mouse, or Super Mario. I've earned something of an . . . existing reputation as the guy with a Swedish schoolgirl haircut and ridiculous cartoon character glasses with twenty-four-karat gold studs in them. It was time to complete the look. I wasn't sure if green was the right color, though it was the gaudiest, weirdest color that the Shinjuku Adidas Originals store had this season, so I rolled with it.
Despite my engorged interest in the National Basketball Association, it wasn't until I'd landed in San Francisco and picked up a discarded copy of the New York Times that it dawned on me: The Los Angeles Lakers were facing the Boston Celtics in the NBA Finals in Los Angeles. At the Staples Center. Next door to the Los Angeles Convention Center. Where the Electronic Entertainment Expo was held. Crayon-green was the Boston Celtics' primary color. Oh man. This situation was bound to get gorgeous real quick.
Days later, following the Lakers' victory, minutes after a man threw a lit cigarette into the open Sebring, burning a hole halfway into the nylon of my track pants right up above the knee, moments before a dozen rioters grabbed our car and tried maybe-seriously to tip it over, our car drifted to a stop in front of Cheapassgamer.com's own Cheapy D and Wedbush Securities analyst Michael Pachter, who took one look at my pants, told me I'd better take them off, and warned me, "You're gonna get fuckin' stabbed."
I didn't get fuckin' stabbed, though the possibility of it occurred to me in that breezeway as Bob popped the trunk on Monday morning. We stuffed my stuff into the car; I took the shopping bag into the front seat.
"We need to maximize our visibility," I told Bob. "In a couple years, we're going to have enough money to rent a booth. We need to think about that. This year, we don't have a booth — this year, we are a walking, talking booth."
"Okay."
Maybe Bob was tired. We pulled off the highway and into the first shopping center outside the airport. Lo and behold: a Chipotle.
The sun was terrifying. Just to fight a migraine, I had to squint so hard that I could barely see. I had to squint so hard I could have looked right at an eclipse. I grimaced in a Walgreens parking lot while Bob went in to get cash and cigarettes. Hands on my hips. I unzipped my jacket, and there I was in a Russian Tuxedo: track suit and tank-top. A couple of college girls looked at me. It struck me, instantly, that I was probably a huge joke to a percentage of them, and weirdly attractive to another percentage. The percentages are probably in a constant state of flux between fifty-one and forty-nine. Most things worth thinking about are fifty-ones and forty-nines. Bob came out of the Walgreens with his black track suit on, zipped all the way up to his collarbone. We looked at our reflections in the car window. Oh god, this was such a terrible, great idea. We looked like a couple of Martians in human form. The manufactured coincidence made me a little nauseated, all of a sudden. I did something that would have figuratively turned me to dust ten years ago: I took off my jacket and shirt right out there in the sun. I was topless and mirror-like in my paleness. I removed a vintage Charles Barkley jersey from my backpack, and put it on. "You want to go to Chipotle?" I asked Bob.
"Sure, whatever."
Bob doesn't care about food, because he smokes so much he'd need a mouth transplant to ever taste anything again. Bob handed me the keys. "I'm going to smoke. Meet me over there."
"You want me to drive the car over there?"
"Yeah."
"You're going to walk?"
"Yeah. Smoking."
I drove the car for six seconds. I beat Bob to the Chipotle. I gave him the keys, went inside, and ordered myself a pound of food. My god! Chipotle! They really do not and can not hook you up anywhere in the world the way they can hook you up at Chipotle. Bob joined me inside and ordered a chicken burrito. We planned out our E3. Our plan was to shoot a lot of video and go to as many party things as we could. I checked my Facebook on Bob's phone, and came up with a list of parties and things. Unfortunately, we'd missed the Kotaku party because I had wanted to stay in Tokyo until Monday afternoon. It turned out that Afrirampo, one of my favorite bands in Japan, had decided to break up, and were playing their last show in Tokyo. I wanted to go. And it was great that I did, because, at the show, they declared me their best fan ever, and gave me a chiffon cake and an old teddy bear as a reward.
After a few minutes with Facebook, I'd written down a mental list of things for us to do and when we should do them. Eventually, we were out on the highway, our stomachs full of burrito, creaking and cracking like old footballs beneath steamrollers. It was a satisfied, if scary friction. I plugged Bob's Android phone into the cigarette lighter as we hit the highway and sped south. I dialed up Kotaku.com and read about the Microsoft press conference. So they'd made a slimmer Xbox 360, and they gave one to everyone at the press conference. Damn it! Why did I fly in on Monday instead of Sunday? Well, a ticket on Sunday would have cost literally three hundred dollars more, so there was that. Also, there was no guarantee I'd get into the press conference. I could have flown in on Friday! Then I would have missed the concert. Well, who cares. Either way, I really could use a 360 that wasn't as loud as a jet engine, with HDMI and Wi-Fi.