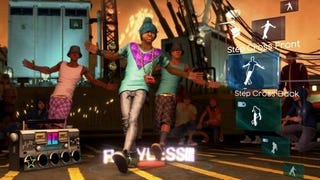 Playing around with some of the games designed for the Xbox 360's controller-free Kinect earlier this week I discovered the game of the show that I think could have the biggest impact on gaming.
It shouldn't be a surprise that the game is the product of developers Harmonix, the folks who created Guitar Hero, Rock Band, worked on Karaoke Revolution, and, long ago, created the best Eye Toy game to hit the Playstation 2.
It sounds like a silly concept: A game that can teach you to dance.
But when Guitar Hero hit stores it sounded like a bad idea too: A rhythm game you play with a piece of plastic shaped like a toy guitar.
What makes Dance Central so meaningful is that it's real, it keeps an eye on your movements closely, carefully and tells you when you're hips are out of sync, your hand out of rhythm, your legs out of position. And those are real dance moves it's showing and teaching you.
More importantly, though, is that the game is fun.
It makes being a bad dancer fun and overtime it looks as if it could actually teach you to dance, but do so in such a light-hearted, amusing way that you won't realize that you're learning a talent until you have it.
I ran into Alex Rigopulos, CEO of Harmonix, at the event, held in a top floor loft of some trendy downtown LA building.
Do you think this could do for dance games what Guitar Hero did for rhythm games, I asked. Could Dance Central make games like Dance Dance Revolution vastly mainstream, wildly cool?
Yes, he said. But of course he's going to say that, it's his company making this game.
I do agree with him though. You only need to try the game once to realize its power. I tried it three times. I may not seem like it, but I'm a pretty reserved person, not one to play Guitar Hero or Rock Band on stage, sing karaoke in front of a crowd or dance, ever dance in front of an audience.
But there I was, standing in very public place trying to learn how to dance to Lady Gaga. And it was fun.