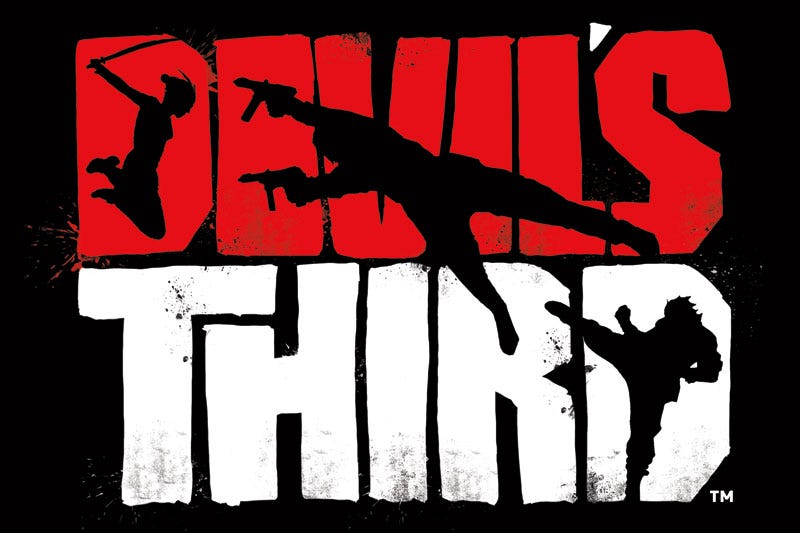 Famed video game designer Tomonobu Itagaki and his select group of creative warriors at Valhalla Game Studios are making a new game, Devil's Third, a hyper-violent shooter for the PlayStation 3 and Xbox 360.
Valhalla Game Studios is allying with publisher THQ to bring its newest action game to consoles, an original effort that Itagaki says is designed to be more fun and accessible, place a major emphasis on shooting—along with "deep melee and fighting systems"— and boast a robust multiplayer component.
The former members of Team Ninja, responsible for the fighting game series Dead or Alive and high-speed action game Ninja Gaiden, are crafting what Itagaki describes as a "breakthrough for the shooting genre." Valhalla's goal in crafting Devil's Third, Itagaki says, is to develop a shooter with a more "direct feeling of killing" your opponents.
"In looking at real combat, close combat has a more visceral bloody feel to it. I want to get more of that close combat feel in [Devil's Third]," Itagaki told Kotaku in a recent interview, the table full of Valhalla's top staff. Itagaki himself was without his trademark shades, wearing a new silver ring in the shape of the Valhalla Game Studios logo.
"It's not taking a hack and slash game and tacking on some ranged weapon combat. We feel we have a lot to learn as we make this, but we also feel confident in our experience and the fundamental elements of head-to-head competition in [our previous] games."
THQ's Executive Vice President, Danny Bilson, glowingly describes the game's multiplayer experience as "phenomenal." It was Valhalla's original multiplayer build—and Tomonobu Itagaki's personal point of view—that urged THQ to sign the developer.
"We green-lit the same day," Bilson recalled. "Within 10 minutes of meeting Itagaki-san, I wanted to work with him. There was no hesitation at all. It was all about, how do we make a deal and how soon do we make a deal?"
THQ's publishing agreement with Valhalla will see the two companies work closely together on the development of the game and its fiction.
While Bilson and Itagaki were tight-lipped about the story behind Devil's Third, they provided some clues about its war-torn settings, which span the globe. Bilson said the biggest clue about Devil's Third's background is the Kessler syndrome theory.
The Kessler syndrome basically says that the density of objects in low-Earth orbit could reach a point where collisions between those objects could cause a disastrous cascade of debris. Those collisions could compound, causing more orbital collisions, a scenario that could render space travel and the use of satellites unfeasible.
Some of the game's concept art features what appears to be space debris falling upon the earth and widespread destruction in Asian, European and American locations.
As for the name Devil's Third, Bilson and Itagaki said it has multiple meanings related to the fiction and the characters, the first of which is rooted in classical music, in the dissonance of tritones, or "Diabolus in Musica." Bilson referenced the works of Richard Wagner, including his opera Götterdämmerung about the downfall of the Norse gods, as well as the music of Black Sabbath, in explaining the concepts behind the game.
"As we expose some of the fiction, it all becomes clear," Bilson says. "[The title Devil's Third] absolutely came out of the game, there's a character in the game that has a relationship to the music, there's three factions…" Then he cut himself off.
"I don't want to really talk about it," he said, seemingly having given away too much already.
Itagaki explained his thoughts on the musical foundation of Devil's Third.
"Dissonance can make people feel negative feelings," he said. "But you can try to be nice, make everything really accessible and pleasant, or you can go down a road that rattles people a bit. I think the latter is where I can make a more interesting impact on people. More than the musical interpretation of Devil's Third, I'm more interested in the literary associations."
Bilson says there has been "a tremendous interest" in Devil's Third's fiction as THQ extends its transmedia plans. The publisher has television and movie projects in the works based on its Red Faction and de Blob properties.
In addition to having a mysterious story and characters, Devil's Third is exceedingly violent. In the debut trailer, you'll see enemies sliced in two, others with their limbs torn apart by shotgun blasts. In the uncensored version of the trailer we previewed at THQ's headquarters, bloody decapitations sprayed gore on the screen and a brutal melee attack liquefied another soldier's face into the side of a tank.