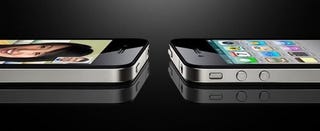 The iPhone and iPod Touch may not be the most successful smartphone and multimedia devices in history, but they're certainly the ones with the biggest buzz. [UPDATED for the holidays.]
Since their release in 2007 there have been countless upgrades, new models and of course those thousands and thousands of applications.
This is our best advice — updated regularly — about whether or not you should buy an iPhone or iPod Touch for gaming, what games to get for it and what to watch out for.
[This post was last updated on Nov. 15, 2010 and will be updated if events, news, games, prices or acts of nature cause our opinion to change.]
Should I buy an iPhone now?
No, not if you're looking strictly to satisfy your gaming itch. If, on the other hand, you're in the market for a new smartphone or a digital music player then both the iPhone and iPod Touch are worthy devices that can provide interesting gaming experiences without sacrificing too much on the other fronts.
The iPod Touch has access to a wealth of music, movies and TV shows from which to select and plenty of applications to make it a useful device for just about any walk of life. The iPhone, while it comes with a pricey and sometimes unreliable service provider, includes enough add-ons, like a camera, voice and video recorder and GPS, to make it the digital media equivalent of a Swiss Army knife.
What Else Does It Do Besides Gaming?
Besides being a phone, the three different iPhone models each add some interesting, typically non-gaming, features to the mix.
The iPhone 3G has all of the expected apps you'd find on a smartphone, like a calendar, email, notes, web browsing, maps. It also has a built-in GPS, camera, serves as a music and video player and has access to a bajillion applications, both free and for a nominal price. The iPhone 3Gs adds the ability to capture video and use a built-in digital compass. The iPhone 4 includes a second camera and gyroscopic motion detecting.
The iPod Touch has all of the apps, the browsing and maps, but no GPS, phone, or other goodies.

Above: iPod Touch and the iPhone
If I'm going to take the plunge, should I get an iPod Touch or an iPhone. And if I'm going to buy an iPhone, which one should I buy?
ANSWER UPDATED, 7/9/10:
Unless you're in the market for a new phone it would be crazy to plop down the cash for an iPhone along with the monthly cell service and data plans from AT&T. So get an iPod Touch. If you need a new phone, or want to upgrade to a new phone, then the iPhone is a great choice.
Choosing which iPod Touch you want is a pretty straight forward decision: It's all about the storage size. You just need to decide if you want 8GB, 32 GB, or 64GB. Eight is fine if you're a light user, 32 should work for all but the most intense video watchers.
Technically, there are four models of the iPhone: The original iPhone, the 3G, 3Gs and the iPhone 4. But in reality, it looks like Apple is a two iPhone sort of company. Your only options are the iPhone 3Gs or the iPhone 4.
I already have an iPhone, but should I should "upgrade" to a fancy new model?
ANSWER UPDATED, 10/01/10:
Yes. It turns out that the higher-resolution "retina display", the faster processor, the extra internal memory, longer battery life, not to mention all of those extra non-gaming features, won our hearts over.
The iPhone 4 is head and shoulders above the last iteration, so if this is your cup of tea, you're going to want to upgrade.
What are the best games on the iPhone and iPod Touch?
There are literally thousands of games now available for the iPhone and iPod Touch. But not all of them are great. In fact, it would be fair to say that most of them are the exact opposite of great. Fortunately, it's pretty easy to separate the gems from the coal. We find that games by big name developers tend to be fairly good to great. So you're going to want to check out the offerings from the likes of Electronic Arts, 2K Games, Activision , PopCap Games, Square Enix and Gameloft. While they deal heavily in ports, those ports can be pretty amazing when played on this platform. Some of our favorites include Bejeweled, Call of Duty: World at War: Zombies and Zombies II, Civilization Revolution, Dungeon Hunter, Chaos Rings and Tiger Woods PGA Tour.
But great games don't just come from the big, known game developers. There are tons of fantastic titles from companies you've never heard of. Games like Swords and Poker 2, Drop 7, Crosswords, Doodle Jump, Stick Skater, Flight Control, Edge, Dapple and Bowmaster. The game's run the gambit, from role-playing, to puzzlers to action titles. Our Sweet Sixteen story is a nice jumping off point for building your gaming library.