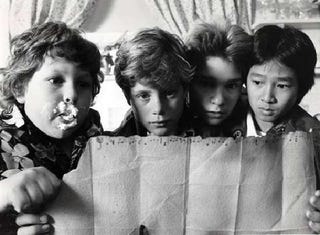 With no sequel, no reboot, no spinoffs - just one movie and one video game - The Goonies is a rarity, a phenomenon supported by two decades of nearly unexploited nostalgia. The film's 25th anniversary of its release is today.
This weekend in Astoria, Ore., the real-life setting of the 1985 film saw a gala reunion attended by hordes of fans and nearly all of the Goonies cast - and what a breath of fresh air that doesn't have to be qualified as "the original cast."
That includes of course, Jeff Cohen, now a high-powered entertainment lawyer who's visited Kotaku to dispense legal advice to gaming figures. But 25 years ago, as Chunk, he gave the film its best lines, its iconic "Truffle Shuffle," and infused it with the underdog humanity that makes The Goonies so beloved today.