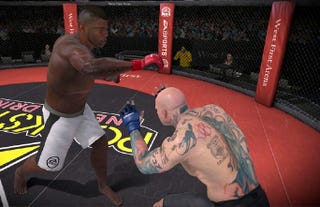 Sports gamers are ready for far more than some football coming out of this year's E3 expo.
One of the most reliably predictable genres, as far as big sellers and upcoming releases for the year, sports games still present major reveals at these shows, in their own way. This year will see two brand new titles from Electronic Arts, so straight away we know to look for those. But what of the rest?
You can't keep track without a scorecard, so here are our big performers to watch - we think.
EA Sports MMA (PS3, Xbox 360) - Electronic Arts' entry into mixed martial arts will easily dominate the sports game news coming out of L.A., especially with the game sponsoring three bouts at the nearby Nokia Theater on Wednesday. Although it lacks licensing of the sport's top circuit, going with the lesser known Strikeforce, a strong control set could give it a fighting chance against THQ's UFC Undisputed 2010.