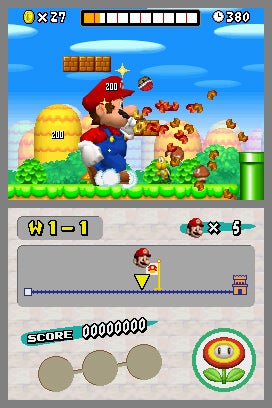 New Super Mario Bros. DS
This is classic side-scrolling Mario Bros action, a successor to the original Super Mario games. The new moves in this one include a super-mushroom that turns Mario into a giant. Mario's adventure spans both screens.
Mario Kart DS
It's Mario Kart on a portable system with support for local wireless multiplayer matches and online races via the DS' WiFi.
The Legend of Zelda: Spirit Tracks
One of two Zelda adventures for the DS, Spirit Tracks used the cartoon link first seen in the GameCube's The Legend of Zelda: Wind Waker, but is distinguished by putting our hero in command of a world-traveling locomotive. Read Kotaku's The Legend of Zelda: Spirit Tracks review.