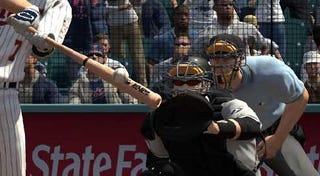 It's the bottom of the fourth and that SOB Dallas Hodges is squeezing the zone low and away, again. Strike three went by like a freight train and Hodges just stared at it like a cow. This ump's a disgrace.
This ump also isn't even real. He's one of 10 in MLB 10: The Show, who can, thanks to a menu option, call personal strike zones that can definitely make you believe someone has it in for your pitcher. And when superstar hitters get to the plate, I swear they're both in collusion. I'll get nothing on the corners and then I'm forced to groove a two- or three-ball pitch and Ryan Braun hits it into the 25th century.
But at least no one ever blows a call the way Jim Joyce did on Wednesday, catapulting baseball's annual outrage over terrible officiating into the national spotlight, several months ahead of its usual postseason appearance. Joyce botched a call in a scenario that seems like something out of a screenplay - missing the 27th out of a potential perfect game, and it was not even close. Detroit Tigers pitcher Armando Galarraga, covering first base, clearly beat Cleveland's Jason Donald to the bag, but Joyce ruled the runner safe. Joyce wasn't out of position, and it wasn't a bang-bang play. He just missed it.