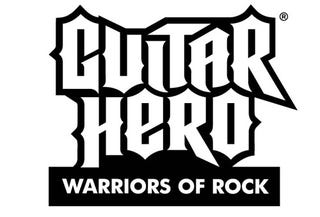 Activision reveals the next entry in the Guitar Hero franchise, Warriors of Rock, featuring more than 90 tracks, a Gene Simmons-powered quest mode, and new challenges for every track in the Guitar Hero catalog. Check out the first 35 tracks!
The biggest change coming to the Guitar Hero franchise in Warriors of Rock is the story-driven quest mode, featuring Gene Simmons of Kiss and giant-tongue fame, taking players on a journey from the famous CBGBs club to the molten lava fields of rock treachery. Eight Guitar Hero characters transform into Warriors of Rock in order to help the demi-god of rock take down The Beast. It almost sounds a bit like Brutal Legend. Plus, we get to see Gene Simmons hamming it up as the demi-god himself!
"The world is a boring place. Come with me, and enter a world populated of Demi-Gods and Beasts. Transform from an everyday person and become the savior of rock and roll," said Gene Simmons of KISS. "It was an honour and privilege to narrate Guitar Hero: Warriors of Rock, even more so, to voice the Demi God. From the God of Thunder to the Demi-God, how cool is that..."
Of course, we already knew about this. We've even seen a brief trailer. Still, official confirmation is nice.