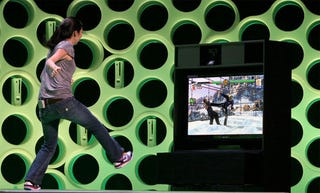 The departure of two key men involved in the Xbox 360 from Microsoft won't cause major changes in the Xbox division, a source close to Microsoft told Kotaku today. But the timing of the next steps for the Xbox brand was a factor.
The source, who was not authorized to speak in any official capacity about Microsoft, explained that Microsoft executive Robbie Bach, a 20-plus year veteran of the company whose Entertainment and Devices group includes the Xbox team had decided that he couldn't make a new long-term commitment to the company. Bach will leave the company this fall. While Bach may have been able to stick around for a year, our source said, he would not have been able to commit to the three or so needed to participate in the planning for whatever comes after Natal and next for the Xbox.
Bach will stick around through late 2010, advising a transition which is not expected to have major changes to the Xbox division within his Entertainment and Devices group. That division has fared better of late thanks to strong performance by the Xbox 360, but its MP3-player and phone divisions, responsible for Zune and Windows phone platforms has not come close to the critical and commercial heights of competitors such as Apple and Google.
In Bach's absence, the man below him who ran the Xbox division, Don Mattrick, will report directly to Microsoft CEO Steve Ballmer.
Despite the game team's success in recent years, Xbox 360 sales haven't been monstrous in 2010. In the early months of the year, the platform has cooled. In the U.S., the PS3 has been inching closer, selling out, no longer taking a drubbing. But that's no indication that there were troubles in Microsoft's Xbox division demanding Bach's ouster, said Wedbush analyst Michael Pachter. "Xbox sales are roughly flat, but that is a huge accomplishment given that the PS3 and Wii have had price cuts," he said.