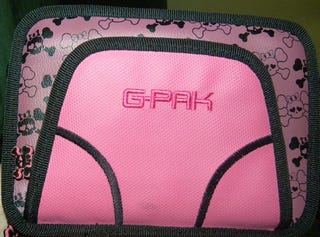 Lately I've been buying Nintendo DS games at an alarming rate, with little or no regard to my own well-being. Could my new DS case be controlling my brain?
First off, yes, it's pink. I like the color pink, and my fiancée likes men who like the color pink, so we've sorted that out. Anyway!
Recently GameStop had one of those Game Days sales, where they get rid of the stock that's just sitting around gathering dust by putting large numbers on everything to show how cheap it is. Along with assorted games for various platforms, they usually have a bin filled with unwanted video game accessories. That's where I found my pink, skull-covered G-Pak.
Skulls are very manly, by the way.
Up until then, I'd been using a black plastic case with foam indents for up to six Nintendo DS games. You might remember it from my PAX East post about it possibly being a bomb.