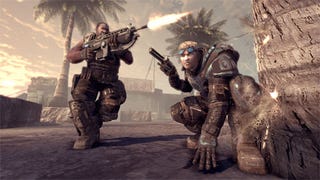 Changes are coming to Epic Games' Gears of War 2, showing that the title hasn't been at all forgotten about now that the focus has shifted to Gears of War 3. Better still, there's a Gears 2 deal inbound.
The upcoming title update for Gears of War 2 on the Xbox 360 fixes a long list of bugs, exploits, balance issues and more, adding a new multiplayer match option (Social Xbox Live) and changing the way players get in and out of matches.
For Gears 2 players still rocking the stock package, Epic will have something for you. The company is planning "a promotion that will dramatically reduce the cost of the All Fronts Collection," giving you access to all that downloadable content at a price below the 1600 Microsoft Points asking price.