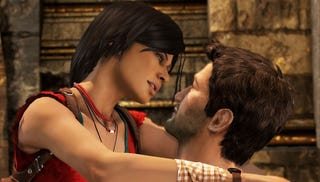 We can all agree that video games are a form of entertainment, but just what about them entertains you? What are you looking for, or getting out of them, when you sit down with a controller in hand?
I bring this up because over the weekend I was talking with a friend about Modern Warfare 2, and despite the fact we were both in the same room talking about the same game, we were having two conversations: he as a "casual" gamer who only plays Modern Warfare 2, and only plays it online, and me as someone who plays, well, pretty much everything.
After butting heads for half an hour or so, me complaining about the game's awful writing, him about how there's not enough guns in it, he asked me what I look for in a game. And...I had to pause. Because while I've played thousands of games over the past 26 years, and know inherently what I like and what I don't like, I don't think I've ever sat down and explicitly spelled it out.
So I went home and did just that. Looking over the list, I thought it was pretty interesting, both in terms of how it shapes what I play in my spare time and in how it reflects the stage of my life I'm at, where I've gone from bum university student playing Animal Crossing and Harvest Moon all day to someone with a wife, mortgage, full-time job and even a baby on the way.
What I Like
Writing - I don't demand a quality plot when playing a game. Those are hard enough to come up with for a movie or book, let alone something as interactive video game. But I do enjoy quality writing. Snappy dialogue, a bit of humour, a bit of emotion. It's why I love Uncharted 2 so much: the story might be a bit rubbish, but the way the characters are driven through it is a delight.