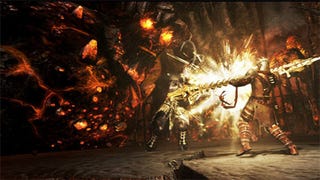 Video games. High literature. They have nothing in common. True or False?
False.
Last August, I wrote about Gaming and Literature, citing the pervasive influence of JRR Tolkien's Middle Earth on fantasy gaming online and off, just for starters. For those who think Tolkien is just genre trash, I hauled out EA's then-in-development game Dante's Inferno. I could foresee... issues... with the way the game was likely to play out, but said "...should this game inspire just one person to discover the original poem or excite discussion in online forums, over water coolers, and perhaps even at library events, then who has grounds to complain that Dante wields Death's own scythe in service to this unique retelling?"
I could only hope like hell something good could come of it. (Wordplay deliberate, there.)
Today comes word that at least one young man was just so inspired. Read about it here.
(Go, read! Shoo! Key point it includes is this, heard at a library: "Hey, Mom! See this book? He grabbed a copy of Inferno, the first book in Dante Alighieri's trilogy The Divine Comedy. Remember that game you bought me? This is the book it was based on, but this book is even sicker than the game! It was awesome!" Really, go read. Game Couch has lots more juicy goodness on the site for you to explore, beyond just this one post.)
Because of the game, the boy got his hands on this book. To judge by that comment, he actually read it. Can you imagine how hard his English teacher might have had to work to achieve this under other circumstances? "Read this really long poem by this Italian guy who died in 1321, translated by another important old poet who died in 1882." I suspect "reluctant reader" wouldn't begin to describe it.
I'm also bemused that the young man finds Inferno "even sicker than the game" when games are widely castigated as being the source of all that is sick and unholy and foul in the world today. No one would ever discuss banning Dante's Inferno the Poem, though; no sirree.
EA has done insanely stupid things to garner publicity for the game. They apologized but it was still insanely stupid. Not so stupid was for them to partner with Random House for a special release of the Henry Wadsworth Longfellow translation of Dante Alighieri's famous poem.