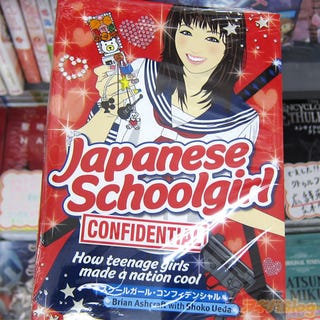 Pretty darn great, that's what.
For someone who covers Japanese pop culture, seeing one's own work absorbed and digested by said culture is quite thrilling. Japanese Schoolgirl Confidential, my tome to the impact Japanese schoolgirls have made on the country's society and popular culture, has gone on sale in Japan.
I never intended the book solely for foreigners, nor is it intended solely for male readers — hence the reason why I wanted to work on the book with my better half. The goal was to examine a cultural phenomena and do it with insight and breadth and not simply slog something off superficially without fully understanding it. The book examines how Japanese schoolgirls have made an impact on everything from video games to fine art and why they appeal to women, men and children alike. And no, it's not *simply* that they are cute, and no, it's not *simply* about sex. There is far more at play.