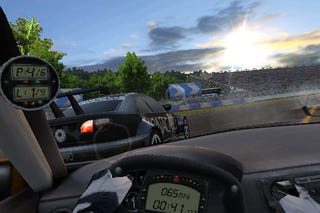 After watching Firemint's Real Racing HD idle at the top end of the iPad gaming charts every week since the device's early April release, we put the racer through its paces to see why it's getting so much love.
I hate racing games.
It's not because I hate driving, or a racing video game killed my father. It's just that I've never gotten a handle on car physics. I can hold my own in an arcade racer, but when any sort of realism is applied, my driving skills run away screaming. So when Crecente asked me to review Firemint's hit iPad title, I was quietly reluctant, and a little nauseous. I've attempted to review racing games in the past, and it hasn't worked out.