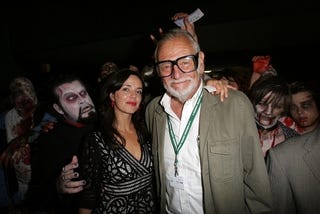 George Romero's name is synonymous with horror. Romero isn't a huge gamer, but he's interested in making a video game. If only a game company would allow him to do just that. There's shit he'd like to hide and stuff.
Romero is best known to moviegoers for his groundbreaking zombie films Night of the Living Dead and Dawn of the Dead. Romero's later work has been uneven, but Land of the Dead does have flashes of brilliance.
"I'd like to do a game. I'd like to work with a gamer on it," Romero told website Destructoid. "But everyone who has ever approached me, it's always been ... sell us your name and go home. I don't particularly want to do that." Capcom's zombie game Dead Rising was heavily influenced by Romero's films — a fact that Romero seemed apparently unaware of in 2008.