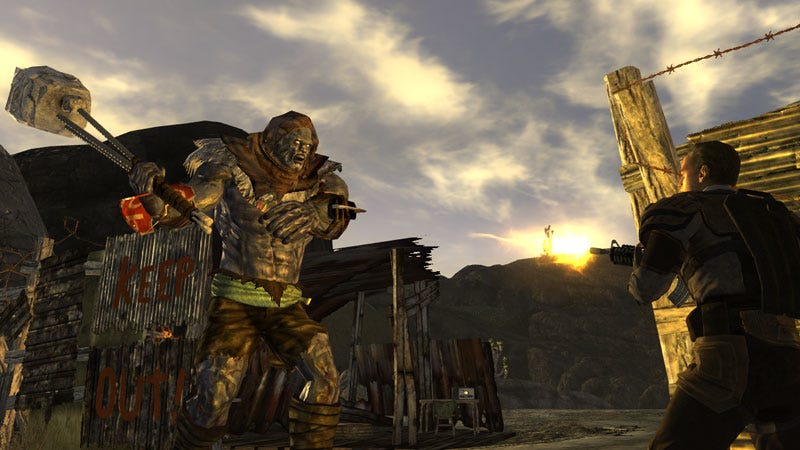 Your first day in Fallout: New Vegas starts badly as you recover from being shot in the head, left for dead in a post-nuclear wasteland and apparently so worse for wear the town doctor can barely put you back together.
Obsidian Entertainment's newest contribution to the Fallout universe—the developer was born from the ashes of Black Isle Studios, developer of Fallout and Fallout 2—starts as "an inversion" of Fallout 3. You're not a Vault dweller born and raised to your specifications, you're a courier, ambushed for your cargo and given a blank slate courtesy of a bullet.
You awake in Goodsprings, a tiny town in the Mojave wasteland. Doc Mitchell, Goodsprings' local medical talent explains your unfortunate situation, hoping that he's patched you up to your original condition. The good doctor helps you get your bearings, a bit of rehabilitation that helps justify your character creation and customization with Doc Mitchell's Vit-o-matic Vigor Tester and Reflectron machines, plus some word association tests.
The whole process is a rather elegant, inventive and humorous way of helping to determine your play style.
Doc Mitchell outfits you with a spare Pip Boy, one sharp-looking Vault jumpsuit and weapons you showed up with—you're given the choice to opt-in to Fallout: New Vegas' Hardcore Mode here—sending you on your way to the wasteland.